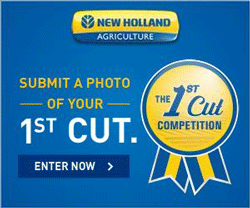 Have you made your 1st cut of hay? About to, weather permitting? Consider entering the New Holland 1st Cut Competition. Following a successful Voice of the Next Gen contest New Holland has launched a new online promotion.

To enter, upload a picture of YOUR first cutting at NHfirstcut.com. The prize is a FREE one-year lease of a genuine Roll-Belt round baler.
New Holland is the undisputed leader in hay tools and now, the Gold Standard has been raised. To New Holland, SMART means smooth, clean cutting with faster dry down and plug-free conditioning. The competition ends July 31st.

Rule here.
View and Vote here.