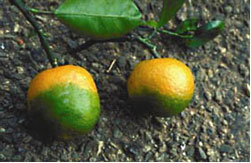 USDA is offering new financial assistance to eligible Florida citrus growers for the removal of trees afflicted with Huanglongbing (HLB), better known as citrus greening, and for replanting groves with new healthy stock. The support comes through USDA's Tree Assistance Program.
Making the announcement today, Agriculture Secretary Tom Vilsack said this action is to help growers as USDA continues to invest in research and a variety of strategies to combat citrus greening over the long-term.
"In the meantime though, this support will help ensure growers are not wiped out in the short-term," Vilsack said. "We must ensure that Florida's citrus industry can weather this storm while a more permanent solution to this problem is developed. The key to the citrus industry's survival is getting new trees in the ground, and we're doing everything we can to help with that."
Because HLB damages and then kills citrus trees over time, USDA has expanded the Tree Assistance Program to allow Florida producers to remove and replace trees as they decline. Previously, to receive program assistance, all citrus tree deaths had to occur in one year. Now, farmers can receive support as trees decline/die over a period of up to six years.
"There are too many jobs and there's too much product that's at risk here," said Vilsack of Florida's citrus industry, which contributes $9 billion per year to the state's economy and supports about 76,000 jobs, accounting for 63 percent of all U.S. citrus production.
Secretary Vilsack provided details on a conference call with reporters. Ag Secretary Tom Vilsack announces citrus greening aid