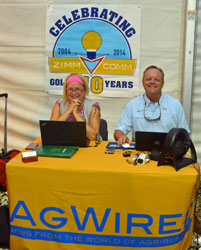 We're on site and set up for the 2014 Farm Progress Show – and hoping it won't rain too hard. The rest of the ZimmComm Team is on its way and will be out here in the morning.
New here at the Iowa site is the air-conditioned BASF Media Tent. That should come in handy even if it is cooler than the normal 95 degrees this week. We are praying to the patron saint of farm shows to keep us not just cool, but dry as well.
The FPS this year features live webcams sponsored by Raven. There are five different cameras featuring different views of the show, so tune in and see what you can see.