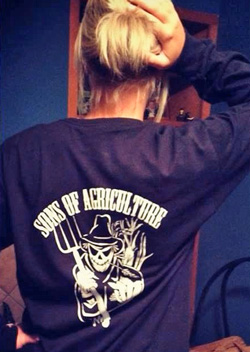 I know that there are "Sons of Anarchy" fans in the AgWired community. I'm probably going to have to find time to watch it and find out what it's all about.
So for you SOA fans here's a parody shirt you might like on eBay – Sons of Agriculture. From the Seller who lives on a NE Kansas family farm raising beef cattle:

These shirts are a parody to the Sons of Anarchy and have only been sold locally in our small rural community until now – the design has a copyright. The graphic on the back measures 10″x 13″ with a smaller version on the front left shoulder measuring 4″x 5″. The graphic is printed on Gildan brand tee's. We do not accept returns (there may be exceptions) and no refunds. We do combine shipping – let me know you bought more than one in an email, please. Thank you so much for your interest in our design!

Like 'em on Facebook.