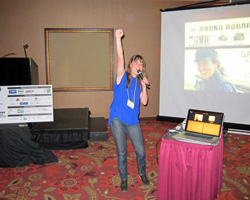 Here's a group that you need to put on your radar. The Young Agrarians. I think you'll hear more from them from my visit to Canada this week.
But to get us started, Sara Dent spoke during our opening reception here at the Canadian Farm Writers' Federation Conference. She gave us an overview of this organization.

Young Agrarians is a grassroots initiative made up of agriculturalists and media conspirators intent on growing food sustainably. Inspired by The Greenhorns to build a network Canada-side to celebrate, connect and recruit young farmers – the Young Agrarians are the movers and shakers of a new agrarians movement: young agriculturalists, farmers, urban farmers, market and community gardeners, community groups and academics, organizations and the public who want to ecologically rebuild, promote and inspire the agriculture of our country. We are using the power of media and the internet, and bringing people together in real time- to build community and grow 'good, clean, and fair' food.

You can listen to Sara here: Listen to Sara Dent
By the way, if you'd like to support this effort they could use your help. Learn more here.
2013 Canadian Farm Writers' Federation Photo Album