Monsanto and Dupont Pioneer announced today "a series of technology licensing agreements." These agreements will expand the range of seed products they can offer farmers. The agreements include a multi-year, royalty-bearing license for Monsanto's next-generation soybean technologies in the United States and Canada.
I spoke with Lisa Safarian, Monsanto, US Row Crops lead, to get some details.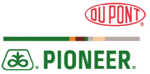 Some of the details include:

Through these agreements, DuPont Pioneer will be able to offer Genuity® Roundup Ready 2 Yield® soybeans as early as 2014, and Genuity® Roundup Ready 2 Xtend™ glyphosate and dicamba tolerant soybeans as early as 2015, pending regulatory approvals.
DuPont Pioneer also will receive regulatory data rights for the soybean and corn traits previously licensed from Monsanto, enabling it to create a wide array of stacked trait combinations using traits or genetics from DuPont Pioneer or others. Monsanto will receive access to certain DuPont Pioneer disease resistance and corn defoliation patents.

There are quite a few dollars involved in the agreement that include four annual fixed royalty payments from 2014 to 2017 totaling $802 million for trait technology, associated data, and soybean lines to support commercial introduction. Additionally, beginning in 2018, DuPont Pioneer will pay royalties on a per unit basis of Genuity Roundup Ready 2 Yield® and Genuity Roundup Ready 2 Xtend™ for the life of the agreement for continued technology access, subject to annual minimum payments through 2023 totaling $950 million.
Additionally, the companies agreed to dismiss their respective antitrust and first-generation Roundup Ready® soybean patent lawsuits pending in U.S. federal court in St. Louis.
You can listen to my interview with Lisa here: Interview with Lisa Safarian