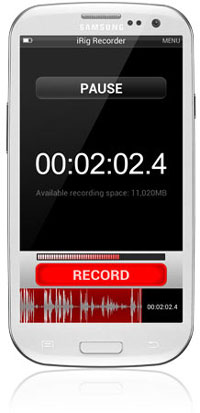 You know I'm flexible on my mobile platforms when I can share an Android app story. Here's one worth noting. The iRig Recording app is now available for the Android platform. I'm not sure it will become my favorite recording app but I'll be giving it a try on my Samsung Galaxy Note II.

iRig Recorder for Android is here, and it's destined to become your favorite audio recording app on your phone or tablet. Designed for ease of use and packed with real-world useful features, iRig Recorder is a simple yet powerful recording and audio-processing app that works with Android compatible IK accessories like the iRig MIC, iRig MIC Cast and iRig PRE as well as other compatible input devices.
A Field Recorder Always in Your Pocket
Use iRig Recorder to capture interviews, performances, band rehearsals, lectures, podcasts, creative spurts of genius, viral audio snippets and more. Recording time is limited only by your device memory. Once you've made your recordings, iRig Recorder automatically stores them by date and automatically adds geolocation information so you can easily find them.
iRig Recorder isn't just a "capture" app. It's a complete audio production and polishing tool for creating broadcast quality audio. It allows you to quickly and easily trim and crop your recordings via the waveform editor, automatically adjust and normalize volume levels, remove background noise, add dynamics adjustment and polish, then share your brilliance with the world.