During the National Farm Machinery Show, New Holland was once again a prime sponsor of ours. There was a lot of blue and yellow on their lot.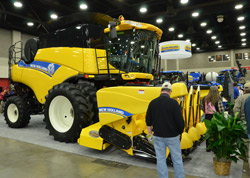 So let's learn about some of the changes going on in the marketing area at New Holland. I visited with Mark Hooper who has been named Director of Marketing for New Holland North America. Mark is very excited about the future since they've had a couple of great years with growth in different segments.
Just a week ago New Holland held it's national sales and dealer meeting. Mark says it gave them an opportunity to focus on where New Holland is headed as a brand with new relationships like the one with the National Cattlemen's Association and Growth Energy. He says, "We're working with our dealers to improve their performance and their support of the products because it takes the whole package from products to the support end as well."
At the same time New Holland is working on its brand within the agriculture industry it is also doing the same in the construction industry with both segments working together. In fact, there are products like skid steers and excavators that fit both segments and were on display at the show.
Learn more about what's going on with New Holland in the marketing arena in this week's ZimmCast here: New Holland Marketing
2013 National Farm Machinery Show Photo Album
Thanks to our ZimmCast sponsors, GROWMARK, locally owned, globally strong and Monsanto, Roundup Ready Plus, for their support.
The ZimmCast is the official weekly podcast of AgWired. Subscribe so you can listen when and where you want. Just go to our Subscribe page.

Coverage of the National Farm Machinery Show is sponsored by
FMC
and
New Holland Agriculture