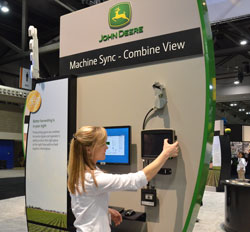 At the recent AG CONNECT Expo, John Deere was recognized for its efforts picking up an AE50 Gold Medal. Kathy Michael, Senior Product Manager, Intelligent Solutions Group for John Deere, explained to Chuck what their Machine Sync, which won the award, can do.
"What [Machine Sync does is allow] the combine to control the tractor of the grain cart and can do on-the-go unloading much more efficiently and eliminate some of that human error," Kathy said. She added that U.S. custom harvesters, who are meeting in connection with AG CONNECT, have had good reactions to the product. "They're really excited about the efficiency, especially since often their crews change year-to-year, so they're able to make sure they have a little bit more logistics optimization in the field by being able to connect the combine to the tractor."
Machine Sync is available now from John Deere dealers, and Kathy added they are really excited what the next fall will bring.
You can listen to Chuck's interview with Kathy here: Interview with Kathy Michael
2013 AG CONNECT Expo Photo Album