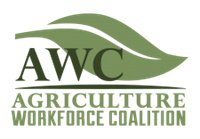 Organizations from across the country joined forces to announce today the formation of the Agriculture Workforce Coalition. AWC's goal is to become a unified voice of agriculture and seek legislation that will ensure America's farms, ranches and all other agricultural operations have access to a stable and skilled workforce.
AWC is putting a framework together that includes both an earned adjustment in status for current experienced farm workers and a program to ensure that producers continue to have access to a workforce as current agricultural employees move on to other jobs. This will encompass employers with seasonal labor needs, as well as those who provide year-round employment opportunities.
"The continued production of labor-intensive agricultural crops and products in the U.S., ranging from dairy and livestock to fruit, vegetables and tree nuts, cannot be accomplished without vitally important labor provided by skilled and experienced farm workers," said Chuck Conner, president and CEO of the National Council of Farmer Cooperatives. "Without people to work on America's farms and ranches, pick the crops or milk the cows, all other issues in agriculture become irrelevant."
Without the support from 1.5 million hired workers each year, American agriculture would not be possible. Beyond the farm gate, each of these workers supports two to three full-time jobs in the food processing, transportation, farm equipment, marketing, retail and other sectors. Ensuring that farmers, ranchers and growers have access to the workers they need to maintain their productivity and competitiveness will help support continued growth in employment across the economy and in areas far removed from farm country.
"We have an unprecedented opportunity now that Democrats and Republicans are having a serious conversation about the critical need for immigration reform—an opportunity that cannot be wasted," said Tom Nassif, president and CEO of Western Growers. "Agricultural employers have come together as never before in lock-step and agreement about a workable proposal that will serve the needs of farmers, workers and the American people. The time for immigration reform is now."
Here are the organizations who have become part of AWC:
American Farm Bureau Federation
American Nursery & Landscape Association
Florida Fruit & Vegetable Association
National Council of Agricultural Employers
National Council of Farmer Cooperatives
National Milk Producers Federation
USA Farmers
U.S. Apple Association
United Fresh Produce Association
Western Growers Association
Western United Dairymen
Agriculture Coalition for Immigration Reform
Additional information on AWC can be found on their website.