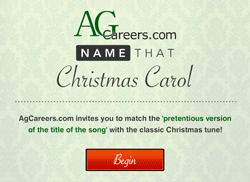 Here's some Happy Holiday cheer from AgCareers.com.

AgCareers.com would like to wish you the best of the holiday season. We would like to thank you for your support of AgCareers.com and the agriculture industry. We wish you peace, safety and joy this Christmas and in the year to come!
We invite you to try our "Name that Christmas Carol" game. Match the 'pretentious version of the title of the song' with the classic Christmas tune!