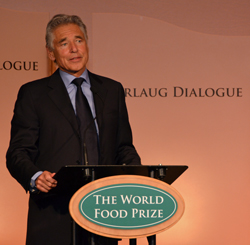 The 2012 World Food Prize Borlaug Dialogue kicked off in Des Moines Wednesday with an address by Peter Brabeck-Letmathe, chairman of the Nestlé Group, who gave his broader view on food security and nutrition.
Brabeck said that as per capita income increases in developing countries, people are no longer satisfied with a bowl of rice a day. "No, they want to have a little bit of meat, whether it's beef, chicken or perhaps lamb on top of it," he said, noting that current meat consumption in developing countries is 69 grams per capita per day, which is expected to increase by at least 9 grams per person every ten years.
On the subject of genetically modified crops, Brabeck said the impact of increasing yields is obvious, but food crops can also be modified to provide needed micronutrients, such as vitamin A in rice to help children who suffer blindness from a lack of it. "The introduction of GMO rice however, seems to fail mainly due to opposition to what I call "well-fed" people in some industrialized countries and I just wonder whether these people will ever be held accountable for the damage they are causing to the most vulnerable," he said to applause.
You can listen to Brabeck's remarks here: Nestlé's Peter Brabeck-Letmathe at WFP 2012
View the World Food Prize Photo Album here.
AgWired coverage of the World Food Prize is sponsored by Elanco