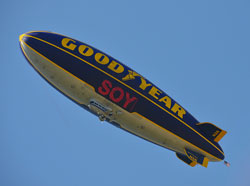 The United Soybean Board (USB) and Goodyear Tire & Rubber Co. Goodyear have partnered to develop and test a new tire featuring U.S. soy. The announcement comes as they celebrate two years of collaboration. During the recent USB Biobased Products Stakeholders Workshop in Dearborn, Michigan, Goodyear showed its support for soy-based products by flying the blimp over the event with a special greeting for soy.
A news release from the USB says the new tire could offer consumers more tread life and a greener alternative to tires made with non-renewable petroleum.

"The soy checkoff welcomes the opportunity to partner with Goodyear in bringing this tire to the market," says Russ Carpenter, a soybean farmer from Trumansburg, N.Y. and chair of the USB New Uses program.
Testing at Goodyear found that the more environmentally friendly tires could last 10 percent longer than tires made with petrochemicals. The company also believes it could use 7 million gallons of soy oil annually.
"Goodyear is committed to caring for the environment and communities, and use of soy oil proves to be another way to accomplish this goal," said Jean-Claude Kihn, Goodyear's chief technical officer.
The soy-based tires could be available for sale in 2015.