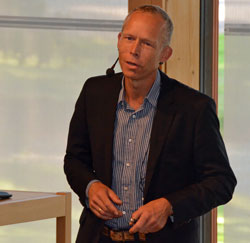 Our opening speaker at the 2012 IFAJ Congress immediately dove into the deep end on the theme of "Solutions for a Green Future." He is Johan Rockstrom, Executive Director of the Stockholm Resilience Center. As he opened his remarks he pointed to what he calls the most significant news of our age which was announced yesterday. He was referring to a report that shows a record amount of melting of the Greenland ice sheet.
I visited with Johan on a break here this morning. I asked him to summarize a few of the key points relating to global environmental change that he made. I think you'll find them rather provocative. He says that we've entered the age being called the Anthropocene in which man has evolved to the point of having a major impact on the world ecosystem. He paints a very dire future and points to agriculture as having one of the major impacts by now covering 40 percent of the world's land mass. But he does think that we can learn from the past and make changes in the future and that agriculture can be a key part of the solution. He also says that it's not just a growing population but a growing segment of the population in the middle class that is used to consuming too much, as in more food than they need. So affluence is a problem.
Listen to my interview with Johan to hear more about his thinking on these issues and what he thinks the solutions are. Love to know your thoughts on it. Please feel free to post them in comments here.
Listen to my interview with Johan here: Interview with Johan Rockstrom
2012 IFAJ Congress Photo Album
AgWired coverage of the 2012 IFAJ Congress is sponsored by DuPont Pioneer