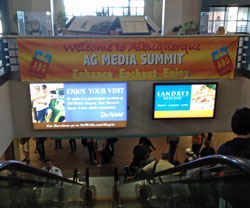 It's time for the 2012 Ag Media Summit. When you arrive in Albuquerque you get your first welcome as you head downstairs to get your bag. It's obvious there's been a lot of preparation work going on. We're going to meet some of those folks during the next couple days.
I'm already feeling Enhanced, somewhat Enchanted and I know I'm enjoying myself!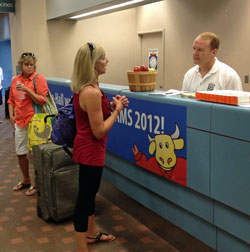 As you get off the escalator you then run into the Boelte Bull shuttle service run once again this year by all the great Boelte-Hall people. We had apples, donuts and bottled water waiting for us and an air conditioned bus to take us to the hotel.
A big thank you goes out to FMC for sponsoring my coverage of this year's Ag Media Summit. I'll sharing some FMC stories and lots more including a few photos (lots actually). I hope you enjoy it.