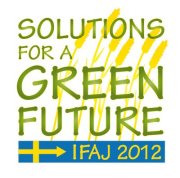 If you were waiting to make reservations for the 2012 International Federation of Agricultural Journalists Congress then you waited too long. It's full! I'm looking forward to a trip to Sweden later this year thanks to our good friends at Pioneer Hi-Bred.

The Swedish Congress is now completely full. All the available rooms at the congress hotel Sånga-Säby are booked and there is unfortunately not possible to take any more registrations. Those who are registered for the congress will be the very first guests at the new hotel building. It has its official opening on August 13th.

We're going to have free wifi at our hotel. That is a good thing. Wish they all had it free.