Results of a survey issued opening day at the World Pork Expo show that the overwhelming majority of the U.S. sow herd spends some time in individual housing, known as gestation stalls. The findings confirm concerns by the National Pork Producers Council about food retailers who have bowed to demands of animal activists and announced they will use only pork from operations that are gestation-stall free.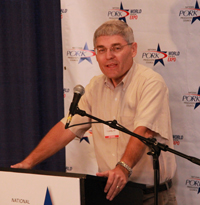 The survey, conducted by University of Missouri extension economist Ron Plain, found that currently only 17.3 percent of sows spend a portion of gestation in open pens. Plain surveyed pork operations with 1,000 or more sows. He received responses from 70 operations, which combined own about 3.6 million of the nation's 5.7 million sows.
The Plain survey found that 20.2 percent of sows on operations of 1,000-9,999 sows, 18.9 percent on operations of 10,000-99,999 and 16.4 percent on operations of more than 100,000 are in open pens for some portion of gestation. When asked about plans to put more sows in open pens, the largest operations indicated that 23.8 percent of their sows would be in them in two years, operations of 10,000-99,999 sows would have 21.3 of their pigs in such pens and operations of 1,000-9,999 would have 20.7 percent.
Listen to an interview with Ron Plain about the survey here: MU economist Ron Plain
Listen to audio from opening press conference about the survey: WPX news conference
Thanks to Meghan Grebner and Ken Anderson of Brownfield Ag News for providing news conference audio and photos.

2012 World Pork Expo Photo Album