Just over 100,000 downloads! That's a big number and that's how many iTunes downloads there are in under three months for AgRacer by Fastline, the first ag game app for mobile devices. I got the update this morning from Tim Hess, Fastline President. That number will continue to grow now that the app is fully available for Android devices as well. Tim says the pace of daily downloads has been pretty consistent since the app was introduced during the National Farm Machinery Show. So, when it comes to creating a new communications tool in today's world in the ag sector it looks like Fastline has set the bar.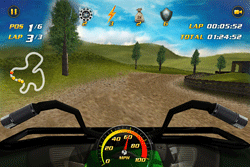 Tim says the app has surpassed their expectations and has met their initial goals which include introducing Fastline to a younger age demographic. He says feedback has been great and includes from users in countries outside the United States. So they're reaching a global audience! There are also some creative sponsor opportunities like product placement within the app available according to Tim, some of which are already in the works. He says AgRacer will soon have new upgrades and updates, including two additional vehicles and a new track. By the way, AgRacer is free to download!
Listen to this week's ZimmCast here: An AgRacer Update
Thanks to our ZimmCast sponsors, GROWMARK, locally owned, globally strong and Monsanto, Roundup Ready Plus, for their support.
The ZimmCast is the official weekly podcast of AgWired. Subscribe so you can listen when and where you want. Just go to our Subscribe page.