Monsanto has broadened its Roundup Ready PLUS™ platform to provide growers with additional post-emergence herbicide options this spring.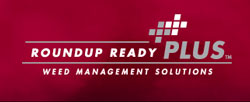 The company's Weed Management Solutions platform now includes two more post-emergence herbicides for use in soybeans to handle those tough-to-control weeds, such as waterhemp and Palmer amaranth pigweed.
According to Dr. Rick Cole, Weed Management Technical Lead for Monsanto, Midwestern soybean growers are becoming increasingly aware of the threat of weed resistance to various herbicides, and the best way to manage weed resistance is to use residual herbicides this spring.
"Farmers need to be proactive in taking steps now to manage establishment of tough-to-control weeds, including those resistant to glyphosate or other types of herbicide chemistries," Cole says. "This is true whether they have experienced weed resistance or not."
The additional post-emergence herbicides for Roundup Ready PLUS in 2012 include Cobra® and Flexstar®. Cobra is an excellent fit for northern states due to its activity on waterhemp, while Flexstar will be offered for use in the Mid-South region of Arkansas, Mississippi and west Tennessee because of its efficacy against Palmer amaranth pigweed.
"We listened to our customers, who were concerned about what options farmers might have to fall back on if there wasn't sufficient rain to activate our lineup of pre-plant and pre-emergence residual herbicides," Cole says. "In the event of dry conditions, growers will now have more post-emergence residual herbicide options in soybeans."