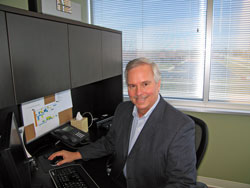 McCormick Company has opened a new office in central Indiana. Seated is Norm Cosand, VP/Group Director & Manager of the new office. I'm just wondering if Norm's desk is always that clean!

Located at the Delaware Crossing I business complex on 10150 Lantern Road in Fishers, Ind., it is one of six McCormick offices in the United States, Canada and France.
"Opening an office in the Indianapolis area is a natural way to enhance our service to clients in Indiana and nearby states," says Norm Cosand, vice president / group director and manager of McCormick's new office. "Our locally based staff will partner with specialists in our other offices to bring smart thinking and metrics-based results. Ultimately, we're building on McCormick's 86-year reputation for helping clients grow through brand differentiation."
Founded in 1926, McCormick Company is the 10th-oldest integrated marketing communications agency in the United States, according to the American Association of Advertising Agencies. Today, McCormick is an independent, employee-owned agency that provides strategic and creative expertise to help its clients grow. McCormick (www.mccormickcompany.com) has locations in Amarillo, Texas; Des Moines, Iowa; Indianapolis, Ind.; and Kansas City, Mo.; as well as in Canada and France.