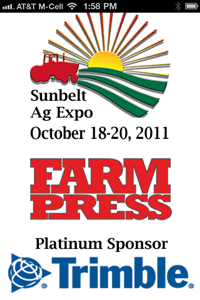 Joining the ranks of farm shows with an app is the Sunbelt Ag Expo. It's the Know On The Go app for all your mobile device types. It's on my iPhone already because I'll be there next week thanks to the support of the New Holland Boomer 555 Contest!

"Know on the Go" is the official mobile app for the 2011 Sunbelt Ag Expo, to be held Oct. 18-20 at Spence Field in Moultrie, Ga. The Sunbelt Expo is a must-attend event for anyone in agriculture, featuring hundreds of exhibits, a working farm, equipment demonstrations and driving ranges, and various educational opportunities.
"Know on the Go," provided for the first time by Farm Press Publications and Penton Media Inc., will allow those attending the Sunbelt Expo this year to use their iPhone, IPod Touch, iPad, Blackberry, Android and other web-enabled phones to receive up-to-the-minute news alerts and other breaking information during the three-day show.
"The Sunbelt Expo: Know on the Go mobile app was developed by Penton Custom Media and has been used at some of the largest trade shows in the nation," says Greg Frey, vice president at Penton Media and publisher of Farm Press. "We believe this new technology will greatly enhance participants' experience at this year's Sunbelt Ag Expo."