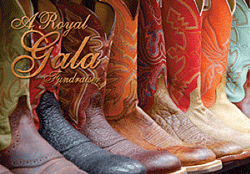 Plan to attend the Livestock Publications Council Royal Gala Fundraiser on October 28. The event will be held from 7-11pm at the American Royal Headquarters in Kansas City, MO. On the menu are cocktails and hors d'oeuvres food stations featuring Certified Hereford Beef® and Smoked Currie Ham.
The program includes the unveiling of the 2011 Hall of Honor inductees: Dr. Glenn Grimes, Professor Emeritus, University of Missouri – Headliner and A.J. Smith, Lone Wolf, Oklahoma – Hall of Fame, as well as the announcement of the 2012 Hall of Honor Inductees, Silent Auction and Dancing! Recommended Attire:
Girls – Dress your best 'BLING' outfit accompanied with fancy boots and belts
Guys – Cowboy hats, boots and starched jeans
Limited seating available – Please send your donation ($50/person) by October 17, 2011
Send your reservation to: Megan Crudup, A Royal Gala, 304 W. 8th St., Kansas City, MO 6410
he funds raised during the annual Royal Gala are used for the ongoing improvement of the LPC Heritage Center at the American Royal in Kansas City, Missouri. This is the eighth year for the Gala.