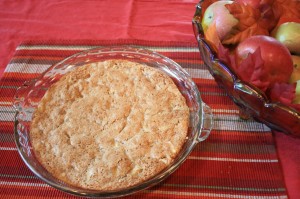 My grandmother can cook and bake about anything. You give her your shopping list with all fresh ingredients from the garden and she can make at least eight different goodies. That was one of my biggest fears when I got married: how in the world was I going to come up with a healthy, hearty meal every night of the week? It's a talent that I was praying would be passed down from my grandmothers and my mother.
Most days, I don't do too bad but my weakness when it comes to desserts is pies. Maybe it's because the only one I'll eat is my grandma's chocolate pie. How un-American, I know. Either way, my husband is suffering because of my lack of enthusiasm in this area.
I did, however, stumble across a recipe for an easy apple pie – for cheaters like me. It's so easy all you do is cut up a couple of apples, toss in some dry ingredients and an egg, then bake. Viola! I now have a happy husband.
You can find my recipe here.
My grandparents went to an orchard last week and brought home 3, 5-gallon buckets of apples. I bet my husband knows what will be in his lunch for the next two weeks!
Until we walk again …