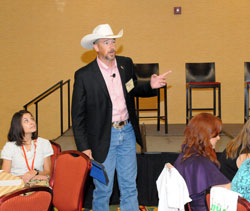 The 2011 AgChat Agvocacy 2.0 Conference is underway in Nashville, TN. We've got about twice as many attendees as the first conference last year.
Getting us started is AgChat Foundation President Jeff Fowle. He welcomed everyone and provided some thoughts on how important it is to engage people via social media. Engagement and interaction is vital to developing trust because as Jeff told us, "The public does not care what you know until they know that you care."
You can listen to the first part of Jeff's comments here: Jeff Fowle Opening Remarks
I've got a photo album started for the conference which you can find here: 2011 AgChat Agvocacy 2.0 Conference Photo Album
AgChat Agvocacy 2.0 coverage is sponsored by The New Holland Boomer 555 Contest.