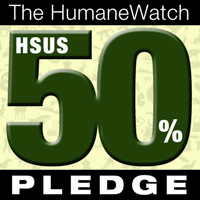 I like David Martosko's HumaneWatch HSUS 50 percent pledge.

Here's the Pledge in a nutshell: As soon as Wayne Pacelle commits to doing the right thing, I'm outta here.
You read that right. Hear me now, and believe me later, as Hans und Franz used to say. If the CEO of the Humane Society of the United States will make a commitment to start sending just 50 percent of HSUS's income to hands-on U.S. pet shelters, HumaneWatch will disappear for good.
We'll pull the plug. Yank the life-line. Cease and desist. Become an ex-blog.
That's the challenge. That's my pledge. And it's non-negotiable.

It's sad that something like this is even an idea but what can you do when you've got a scam going like HSUS does? They were discussed at the Alltech Symposium this week. That's about 1,600 people from all over the world who understand that HSUS is not what it would like its supporters to think it is.
Just calmly, quietly, go support your local animal shelter and don't give to these wackos. Put your money to good use for the good of animals.