Earlier this week, I wrote about Obama signing HR 2997 into law, another emergency stimulus package that, this time, could assist dairy producers. I was checking the news yesterday, when I came across this blog post about my blog post. Oh, how fun blogger buzz can be! Here is the post that was on KELO by Madville Times (who isn't afraid to say what he thinks and doodle pictures as he sees fit, by the way!) Thanks for the nod, Madville Times!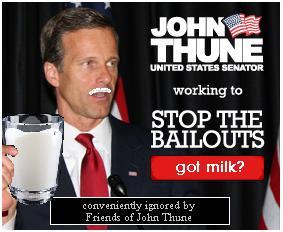 I learned from Amanda Nolz that President Obama just signed into law more stimulus… for farmers! HR 2997 is actually the appropriations act for agriculture, rural development, the Food and Drug Administration, and other federal programs. It includes some increases that one would think will be good for South Dakota farmers…
$4 billion more for food stamps
$1.9 billion more for school lunches (and breakfasts, I imagine)
$290 million to keep struggling dairy farmers afloat (maybe Rick Millner can pay his bills)
$60 million to buy up dairy products for public food programs
And Senator John Thune, champion of ending federal bailouts, voted aye on this federal bailout of dairy farmers.