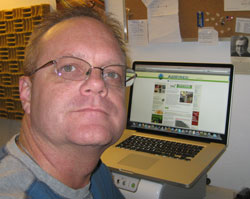 Just in time for an end of week road trip I got in the monster of agriblogging and farm podcasting machines. It's a 17″ big Mac made for today's "all platform journalist." I am pumped up.
In just another lesson about how cool Macs are, I just plugged in my Time Machine backup, started it up and within a few minutes it had migrated all my stuff from my other Mac. I'm talking everything, programs included. It just doesn't get any easier than that. I'm posting from it now. Remembers all my passwords, etc.
For a small fee I'll let you touch it next time I see you.