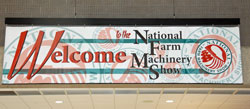 The weather is threatening here in Louisville, but that is not deterring people from arriving to the 2009 National Farm Machinery Show, which just opened its doors.
If the economy is bad, you wouldn't know it here. More than 800 exhibitors are expected in the 27 acres of exhibit space here. I am a "newbie" to the show, so I am looking forward to getting out there and seeing all the new stuff on the floor.
Stay tuned here and at Precision Pays.com for complete coverage of the show this week – while Chuck is in Orlando for the Weed Science Society convention.
Photo album is started here – check back regularly for new sights from the show!
NFMS 09 Photo Album
AgWired coverage of the National Farm Machinery Show
is being sponsored by: