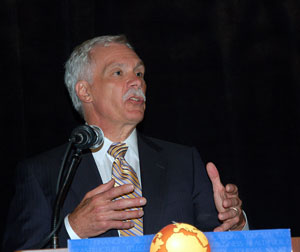 Investment in Africa is spurring economic innovation and growth throughout the continent. There's no question about that for the U.S. Secretary of Agriculture Ed Schafer.
"Make no mistake about it," Schafer said. "Investment in agriculture, investment in the structure of agriculture to move food to the market, is an investment in Africa's future."
Schafer urged private sector investors to build stronger partners and markets in Africa at the 2008 U.S. Africa Agribusiness Forum Friday. The ag secretary said in order to truly develop a successful farm to market infrastructure in Africa, the private sector must get involved. Schafer pointed out that much of Africa lacks the basic fundamentals needed for thriving agriculture markets. He said things as simple as storage, refrigeration, a consistent supply of electricity, expertise in where to sell and how to sell simply don't exist in many African regions.
"In agriculture they recognize that the pillars of successful developments must include improvements infrastructure and market access as well as land and water management and overall productivity," Schafer said. "Greater dissemination and adaptation of technology in reaching these goals by embracing the global trade and expanding the role of the private sector Africa is creating an economy that's ripe for investment, and that's particularly in agriculture."
The government can only do so much, Schafer said. But, he added, private sector investments have the opportunity to make investments that go above and beyond, investments that will make a difference in Africa's future.
Schafer was quick to point out what he says is the U.S.'s significant role in developing needed infrastructure and long-term investment in Africa though. He reminded listeners that the U.S. is traditionally the world's largest donor of food aid and that the President has committed five billion to programs that fight world hunger. Schafer said while much of that money will be allocated to emergency food aid, part of the aid will go to agriculture developmental assistance.
"The aim will be to help boost nations assistance in the production of key food staples and strengthen markets for trading them," Schafer said. "That's the long-term solution for the reoccurring food crisis."
Schafer said much of that aid will go to Africa, with 5.5 billion meant for investment in African nations. From 2001 to 2006, Schafer said, U.S. direct investment in Africa rose 52 percent to 13.8 billion dollars.
The future of Africa's agricultural sector, for Schafer, relies upon the continent's ability to modernize.
"I agree with that conclusion and with the World Banks observation that this revolution will depend on improved market access, stronger supply chains, better water and soil management and the harnessing of the biotech revolution that improved crop varities and livestock breeds that it delivers," Schafer said.
Yet in order to do that, Schafer said African countries need to facilitate free markets.
"We… called for governments to lift self-imposed restrictions on exports that block the free flow of agriculture goods and block the farmers out from making decisions not based on free market conditions but on government restrictions," Schafer said. "The role of governments supporting free markets is critical."
The trade potential in Africa is very real for Schafer. He pointed out that agriculture generates more than a third of the GDP in sub-sahara Africa and employs 70 percent of the population.
"It's well positioned to serve as the engine of economic growth overcoming poverty and strengthening food security," Schafer said. The ag secretary recalled the lesser known example of President Theodore Roosevelt whom, Schafer informed, lived as a rancher in North Dakota.
"He viewed bettering the lot of the farmer as essential to the health of the nation," Schafer said.
That couldn't be more true for the ag secretary as he highlighted the escalating global food crisis.
"As we see the global pressure on food prices and food availability, population increasing at 50 million people a year, as we see economies emerging that provide opportunities for people to eat better and eat more, we're seeing the frequency of purchasing and the changing of food eating habits," Schafer said. "We've seen the United Nations set a goal of doubling the food supply by 2050 to meet the demands that are going to be put on agriculture."
That's why, Schafer says, that investments from the private sector are so critical to furthering the development of agriculture markets in Africa. He especially encouraged countries and private businesses alike to invest in the research and development of biofuel technologies, which he says foster better crop varieties, yields, production, machinery and agricultural methods. Schafer says the biofuels revolution is a powerful tool in reshaping the agriculture industry worldwide.
Though Schafer called for public and private sectors to meet the needs of African development, he was quick to point out that Africa is poised for improvement.
"According to the World Bank last year, the sub-Sahara African economies generated growth of over six percent. That represented the region's fastest rate of growth in over 30 years.
Schafer said the African people are ready and they can achieve modern agricultural success.
Schafer's entire speech is available here:
usafag-08-schafer.mp3
You can also listen to the media q&a where Schafer addresses biofuels, commodities and world hunger here:
usafag-08-schafer2.mp3
2008 U.S. Africa Agribusiness Photo Album
AgWired coverage of the 2008 U.S. Africa Agribusiness Forum is sponsored by: