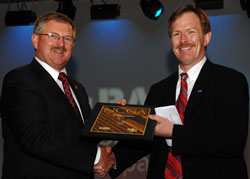 Each of the commodity groups making up Commodity Classic have their annual banquets on the same night. Thanks to several people I got a couple of pictures to share.
This one is from the NCGA Awards Banquet. In it, NCGA President, Ken McCauley (left), is giving an appreciation plaque to BASF which was accepted by Andy Lee, Director of Business Operations, U. S. Crop Protection Products, for their sponsorship of the National Corn Yield Contest. From what I've heard Andy spoke passionately about the NCYC and really hit a home run. Here's an excerpt from his comments:

Look ahead is exactly what we're doing when it comes to demand for corn – particularly driven by ethanol. You've heard a lot about this all week. To seize this opportunity, we must continue to embrace technology…continue to innovate…continue to challenge our crop management practices and look at new ways to break the yield barrier. I have no doubt that U.S. corn growers are up to the challenge. With outstanding results. You only need to look at the fact we're here tonight to honor corn yields of over 300 bu/A. When NCGA was formed 50 years ago, average corn yields in the U.S. were less than 50 bu/A.
That's a testament to the National Corn Yield Contest – embodying the very best spirit of innovation. It takes a special type of person to take the risks…try something new…think through and manage carefully their contest fields. You are the leaders in the industry.

AgWired coverage of Commodity Classic
is made possible by:

and