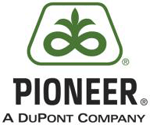 Here's some interesting news from ZimmComm's latest talking news release project. I'm on the highway as you hopefully know but Cindy's holding down the office.
DuPont and BP are partnering up to develop, produce and market "the next generation of biofuels" to help meet increasing global demand for renewable transport fuels. Pioneer Hi-Bred International, a subsidiary of DuPont, is playing a role in this new partnership, according to Pioneer President Dean Oestreich.
He says the first jointly developed product the partnership will bring to market is biobutanol. "Butanol is simply another molecule that is different than ethanol, but it's also a fuel. And what we've done here is we've found a way, through use of our science, to make the process more efficient and economically viable." Oestreich says biobutanol and ethanol in a blend can actually make a better fuel.
Here's an inteview with Oestreich about the announcement and the potential for biobutanol.

Pioneer Interview (7 min MP3)