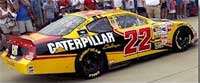 Actually their headline was that Challenger, Caterpillar and NASCAR Put . . . but my title space only has so much room.
Many companies do it. Gotta love those race cars and their fans. It's a publicity machine! This time AGCO announces their sponsorship of a NASCAR race car in agreement with Bill Davis Racing. Pretty sweet looking machine, eh?
I wonder what the "metrics" are on this investment. How do you measure the value of the sponsorship? Is it just how many stories it generates? How many fans see it at a race or on tv? How about measuring how it impacts your target audience? A little customer research? Does sponsoring the car contribute to new sales for AGCO? Does it affect buying decisions? Inquiring minds want to know this kind of thing. Anyone have any research on the effectiveness of sponsoring race cars?

DULUTH, Ga.-Aug. 5, 2005–The Challenger(R) brand, which already graces a full line of quality tractors, combines and hay tools, will soon make its appearance in a whole new venue–on the NASCAR NEXTEL CUP racing circuit. Through an agreement with Bill Davis Racing, the Challenger brand is a new associate sponsor on the No. 22 Caterpillar(R) NASCAR race car, driven by Scott Wimmer, through the end of the 2006 racing season – and, in addition, is the primary sponsor on the No. 23 NASCAR NEXTEL CUP entry, driven by Johnny Benson, in the Bass Pro Shops MBNA 500 at the Atlanta Motor Speedway this October.
"We are pleased that Challenger has decided to join us as one of our sponsors for the 2005-2006 racing season," says Bill Davis, team owner and president of Bill Davis Racing. "We approached them because we believe they have the same drive and ambition toward their goals as Bill Davis Racing has towards winning on the track."
For more information contact Cheryl Thompson.