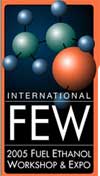 Tommorow it's off to Kansas City for the 2005 Fuel Ethanol Workshop & Trade Show. The show is billed as the "largest ethanol conference and trade show in the world."
Although I won't be able to golf tomorrow the conference really gets kicked off with an opening reception. You can see the program here.
The conference is put on by BBI International.